Hevla Gourmet Blend Low Acid Coffee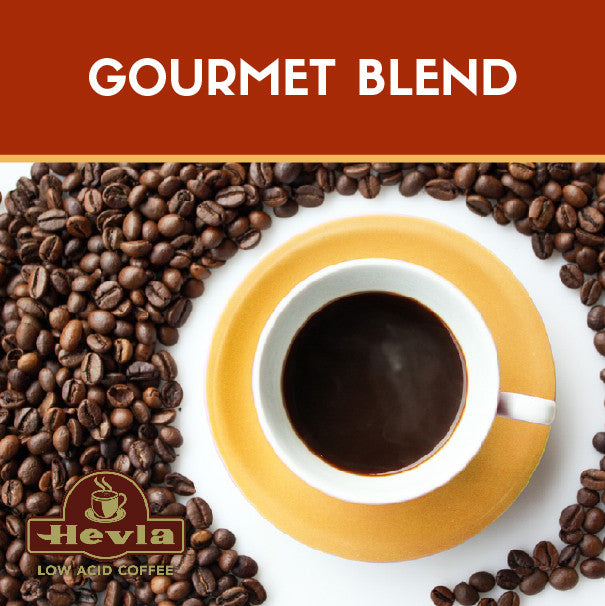 Hevla Low-Acid Gourmet Blend Coffee
Nothing is better than the buttery silkiness of a slow baked cinnamon roll with vanilla bean glaze drizzled generously throughout; the comforting peace in your soul as the morning sun creeps through your kitchen window with the promise of a productive and focused week; or the sultry flavors of deep, rich caramel and praline in our low-acid Gourmet Blend.
The oils in this roast are fragrant. With an aroma of dry toasted pecans and brown sugar, the Gourmet Blend truly sets the tone for a blissful beginning to your day.
Low-acid coffee does not mean you have to substitute quality.
Place your order today.
---
Gourmet Blend Size Information:
12 oz. will make about 35-40 cups (*about 2 weeks worth)
5 lbs. will make about 240 cups (*about 3 months worth)
*estimates are based on 2-3 cups of coffee per day.
---
How to prepare:
Traditional Coffee Maker:
We recommend using 1-2 tablespoons of ground coffee per 6oz. cup of coffee.
Fill your coffee maker with the appropriate amount of water.
Follow the brew instructions for your particular device.
French Press:
Determine how much coffee you are going to make prior, we recommend using the above-mentioned ratio (1-2 tablespoons per 6oz. cup of coffee).
Fill with the appropriate amount of water, ensuring the temperature is between 195 degrees and 205 degrees.
Times vary depending on taste. The range is typically between 3 minutes and 30 seconds to 4 minutes and 30 seconds.
Press the plunger all the way down to the bottom of the French press.
Pour your coffee into your mugs right away.
Cold-Brew:
Use the golden ratio for coffee: 1-2 tablespoons per 6oz. cup of water.
Pour the correct ratio of water and coffee into a carafe, French press, or a large bowl.
Cover the top of the container, and let it sit overnight in the refrigerator plus about 4 hours (12 hours total).
---
Drink Ideas for the Gourmet Blend:
The low-acid Gourmet Blend is great on its own or as an ingredient in your favorite coffee-based drink recipe.
We recommend the following concoctions:
Iced coffee
Thai iced coffee
Frozen s'mores mocha coffee
Caramel coffee (using our caramel syrup!)
Mocha maple coffee
Irish coffee (use your favorite whiskey!)
If you have any additional suggestions please feel free to let us know!
---
Additional Ideas:
Gourmet Blend coffee packs a huge flavor punch!
Try it out with the following techniques:
Freeze it to make ice cubes for your iced coffee.
Use the coffee grounds as a rub for your favorite steak.
Sprinkle the coffee grounds over ice cream.
Combine it with chocolate in any recipe.
For a great daytime snack, dip the beans in chocolate.
---
Sourcing Information:
The low-acid feature of the Gourmet Blend coffee bean is sourcing process. While the beans are in the green state, they go through a purification process, eliminating the acidity and caffeine within the coffee. After, the beans are then transported to Texas, where they go through the roasting process.
After each order is placed, the finished product is then bagged and stored to ensure freshness.
Order yours today!
NOTE: The coffee bag(s) we package your Hevla Coffee in is ok for short-term storage, but if you need to extend the freshness for more than a week, we strongly recommend our airtight storage bags with de-gassing valve (available in Coffee Accessories).
This product is caffeine free, gluten free, certified Kosher, FDA Approved, and non-organic. Fair Trade information is unavailable.
K-Cups for this product are currently unavailable.